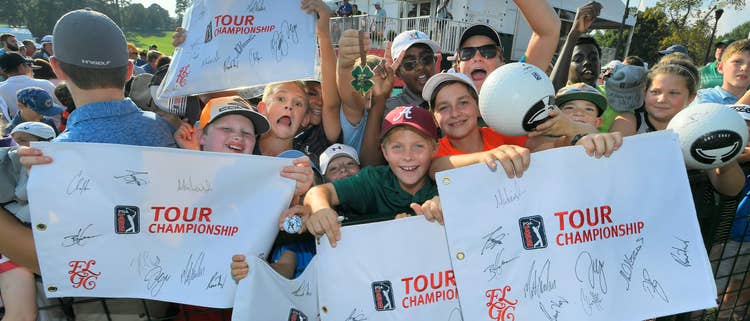 TOUR Championship announces youth and military ticket programs
FedExCup Playoffs finale returns to East Lake Golf Club, August 24-28
ATLANTA – Tournament officials for the TOUR Championship today announced the tournament's complimentary youth and military ticket programs, as the culminating event of the FedExCup Playoffs and PGA TOUR season prepares its return to East Lake Golf Club, August 24-28.
Youth Ticket Program
Those looking for an activity the entire family can enjoy should look no further than the TOUR Championship. The youth ticket program offers a maximum of two children ages 15 and under to be admitted free per one ticketed adult (applies to grounds access only).
Daily grounds tickets start at just $35 and provide access to several public, family-friendly areas throughout the East Lake Golf Club along with a front-row seat to watch the world's best players compete for the FedExCup. Families need only to show up at any tournament gate to receive complimentary youth tickets; no pre-registration is required.
"Our youth policy not only gives many of our young spectators the opportunity to witness their golfing heroes perform up close, but it also provides parents with a budget-friendly avenue to experience the TOUR Championship as a family," said TOUR Championship Executive Director Alex Urban.
Military Ticket Program
In line with its longstanding tradition of providing complimentary access to military members, the TOUR Championship will offer all active, retired, reserved and National Guard members up to two (2) complimentary tickets Wednesday, Aug. 24, and the option for two (2) complimentary tickets for one (1) of the competition days Thursday-Sunday, Aug. 25-28.
Further, Veterans have the option to purchase up to two (2) discounted tickets Wednesday ($15+taxes and fees) and the option to purchase two (2) discounted tickets for one (1) of the competition days Thursday-Sunday ($45+taxes and fees).
"It has always been a priority to grant complimentary admission to our military guests as a thank-you for their service and the sacrifices they've made for our country," Urban said. "We look forward to welcoming them during what is sure to be a special week at East Lake Golf Club."
To reserve complimentary military tickets, please visit tour.spinzo.com/military. Please note military members will need an active GovX account to verify military status and unlock ticket offer. If military members don't have one tied to their military credentials, they must visit www.govx.com to create an account. Tickets must be redeemed online only; military tickets will not be available at any of the tournament gates.
For more information about the TOUR Championship, please visit TOURChampionship.com. Fans are encouraged to follow the TOUR Championship on Facebook, Twitter and Instagram for tournament updates.