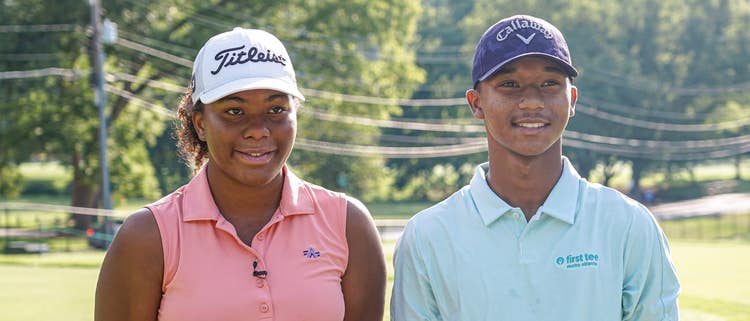 TOUR Championship announces Haven Ward and Ethan Quitman as 2022 HOPE Tee Shot Honorees
First Tee – Metro Atlanta participants to receive $5,000 scholarship as part of HOPE Tee Shot honor
ATLANTA – Today, the TOUR Championship announced its 2022 HOPE Tee Shot honorees, with First Tee – Metro Atlanta participants Haven Ward and Ethan Quitman selected to each hit the opening tee shots on Thursday morning of the TOUR Championship, just moments before the PGA TOUR's 30 best players begin the first round of competition.
The TOUR Championship serves as the culminating event of the FedExCup Playoffs and PGA TOUR season, where only the top 30 players in the FedExCup standings will advance to East Lake Golf Club, August 24-28, for a chance to win the PGA TOUR's Ultimate Prize – the FedExCup.
Ward, 17, and Quitman, 16, will be honored during the HOPE Tee Shot Ceremony on Thursday, Aug. 25, at 11:15 a.m. on the first tee at East Lake Golf Club. Since 2008, the TOUR Championship has recognized members of First Tee – Metro Atlanta who exemplify the "HOPE" that continues to build in the East Lake community and throughout Atlanta. Each year, both honorees emerge from an intense selection process comprised of a golf competition, essay contest and interviews with tournament leadership.
In March, the TOUR Championship announced added meaning to the HOPE Tee Shot tradition with the creation of the HOPE Tee Shot Scholarship, with $5,000 awarded to each honoree on behalf of the tournament.
"The HOPE Tee Shot has become a cherished tradition of the TOUR Championship and one of the most exciting and emotional moments of tournament week," said Alex Urban, Executive Director of the TOUR Championship. "While their moment on the first tee at East Lake is one they will never forget, we wanted to ensure our support stretched beyond that one swing, so we're excited to begin awarding the HOPE Tee Shot Scholarship as part of what is a tremendous honor."
Haven Ward
Ward, a rising senior at Holy Innocents Episcopal School, has been a member of First Tee – Metro Atlanta for 11 years, and was given the honor of competing in the First Tee's Pure Insurance Championship at Pebble Beach last fall. Ward has exhibited an ability to balance her golfing aspirations with her schoolwork, having maintained a 3.8 GPA during what was a busy year of school.
She looks up to Rory McIlroy and Cameron Champ on the PGA TOUR and employs a unique ritual before each of her tournaments: dining at Waffle House.
Ethan Quitman
Quitman, a rising junior at Southwest Dekalb High School, is relatively new to golf, having picked up the game at 13 years old and joining First Tee in 2020. While admittedly being at a disadvantage compared to his peers who started playing earlier, Quitman uses that as motivation to work harder to hone his skills and stay competitive.
Outside of golf, Quitman is self-taught on the piano and participates in martial artis. On TOUR, Collin Morikawa is his favorite player.
"It is an exciting day to have Haven and Ethan recognized and rewarded for their commitment to First Tee with the incredible honor of hitting the HOPE Tee Shot at the TOUR Championship," said Marvin Hightower, Executive Director of First Tee – Metro Atlanta. "These are two impressive individuals who embody the strength of character we at First Tee want our participants to adopt and pursue. They are Game Changers who set the correct example for younger participants who look to follow in their footsteps by becoming successful in golf and in life."
For more information about the TOUR Championship, please visit TOURChampionship.com. Fans are encouraged to follow the TOUR Championship on Facebook, Twitter and Instagram for tournament updates.