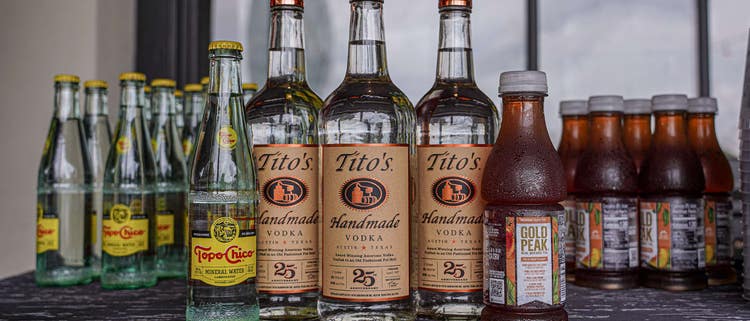 TOUR Championship partners with Atlanta mixologists to unveil new tournament cocktails
"Calamity Jane" and "Finale Fizz" set to refresh fans at East Lake Golf Club
ATLANTA – As the TOUR Championship continues to enhance its unique fan experience, the tournament today unveiled two new tournament cocktails – the "Calamity Jane" and "Finale Fizz" – during the event's annual preview event at East Lake Golf Club. Both cocktails will be available for fans to enjoy when the TOUR Championship returns to Atlanta, August 24-28, as the PGA TOUR's best 30 players compete for the FedExCup.
Crafted by renowned Atlanta mixologists, both cocktails were selected via two rounds of fan voting during an online contest hosted by Atlanta Magazine. The "Calamity Jane," featuring Tito's Handmade Vodka, and "Finale Fizz," featuring Maestro Dobel Blanco Tequila boast one-of-a-kind recipes and include select Coca-Cola products.
Fans can enjoy both cocktails at several of the tournament's fan activation areas, including the Tito's Stillhouse Lounge, located near the 15th green, and The Deck presented by Maestro Dobel, located across the pond from the Practice Range. To keep the cocktail cold throughout the day, fans can choose to have their beverage poured into a special TOUR Championship Yeti tumbler.
Calamity Jane
Crafted by Brendan Seery, UMI
Ingredients:
1.5 oz Tito's Handmade Vodka
2 oz Gold Peak Peach Tea
3 oz ginger beer
Top with Topo Chico
Garnish: Thyme sprig
Instructions:
Combine Tito's Handmade Vodka, Gold Peak Peach Tea, and Ginger Beer in a Collins glass
Fill glass with ice all the way to the top
Pour Topo Chico until the cocktail is filled just shy of the rim
Stir gently to mix evenly, lifting and dropping ice to help mix vertically
Garnish with a thyme sprig
Finale Fizz
Crafted by Maddie McIntosh, JoJo's Beloved Cocktail Lounge

Ingredients:
1.5 oz Maestro Dobel Tequila Blanco
.75 oz Domaine de Canton Ginger Liqueur or any ginger liqueur
1 oz fresh lime juice
1.5 oz AHA Grapefruit and Orange sparkling water
.5 Grenadine
Garnish: Pomegranate seeds and lime wheel
Instructions:
Add tequila, ginger liqueur and lime juice to a shaker tin with ice and shake
Double strain over rocks into a wine glass
Top with AHA Grapefruit and Orange sparkling water
Sink .25 oz Grenadine
Garnish with pomegranate seeds and a lime wheel
For more information about the TOUR Championship, please visit TOURChampionship.com. Fans are encouraged to follow the TOUR Championship on Facebook, Twitter and Instagram for tournament updates.