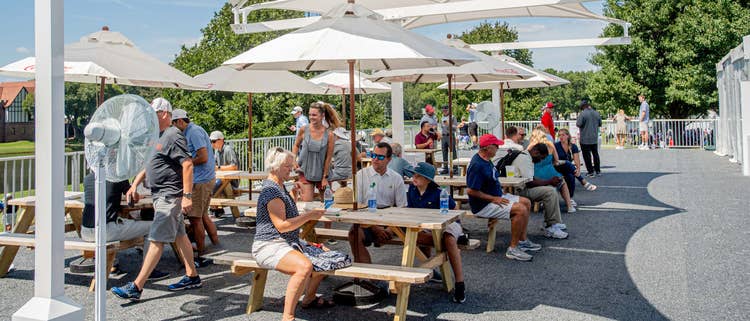 Small Biz Cup Contest Presented by Mastercard® winners set to satisfy fans at TOUR Championship
Amanda's BarBeeQue and Kaylee Cake Pops and More to bring local fare to East Lake Golf Club
ATLANTA, GA - AUGUST 30 - SEPTEMBER 05: at the TOUR Championship at East Lake Golf Club in Atlanta, Georgia. Peachtree Porch. (Photo by Kate Awtrey/PGA TOUR)
ATLANTA – With the TOUR Championship returning to East Lake Golf Club from August 24-28, the tournament will welcome two new local food options for fans to enjoy thanks to the Small Biz Cup Contest Presented by Mastercard ®, which identified two worthy Atlanta food service businesses – Amanda's BarBeeQue and Kaylee Cake Pops and More – to feature in an exclusive concession space on the golf course throughout the tournament.
The Small Biz Cup Contest Presented by Mastercard ® called on local restaurants from across the Atlanta metropolitan area to describe what makes their business unique, how their business has made a positive impact on their employees and the community around them, and what inspires them to keep going.
Grand Prize winner Amanda Kinsey initially started Amanda's BarBeeQue to support the costs of her son's trip to China, while also balancing her career as an early childhood special education teacher. Having developed a passion for the grill at 5-years-old while watching her grandmother, Amanda, with the help of her husband Alex Joplin, now runs her barbeque business full-time. She is living out her passion every day by selling her smoky creations at local Atlanta breweries, catering for customers and serving at festivals across Georgia.
Joining Amanda at the TOUR Championship is Priceless Surprise recipient Amber Tellis of Kaylee's Cake Pops and More, who was also one of the finalists of the contest. Named for her daughter, Amber founded Kaylee Cake Pops and More in 2016 and has since grown into a full-service mobile SWEET truck experience specializing in delicious, homemade, grab-and-go desserts. A finalist in the "Flavor of Georgia" food competition in 2017, Kaylee Cake Pops and More accommodates vegan, gluten-free, and sugar-free diets.
Along with the opportunity to serve fans at the Mastercard Small Business Marketplace at Peachtree Porch, adjacent to the picturesque 8th fairway, the Grand Prize Winner of the Small Biz Cup Contest Presented by Mastercard ® and Priceless Surprise recipient will receive several perks and benefits:
A $10,000 grant and additional $5,000 stipend to apply to operational costs at the TOUR Championship, courtesy of Mastercard
A Mastercard Digital Doors™ toolkit comprised of exclusive offerings and resources to help maximize their digital presence and protect their online operations
One-on-one mentorship with Mastercard small business expert Ginger Siegel
Up to 10 2022 TOUR Championship grounds passes
Additionally, recognizing the vibrance of all semi-finalists who participated, Mastercard also extended $2,000 grants for the four other restaurants who pitched their businesses. In addition, they will receive up to four grounds tickets each to the season finale.
For more information about the TOUR Championship, please visit TOURChampionship.com. Fans are encouraged to follow the TOUR Championship on Facebook, Twitter and Instagram for tournament updates.