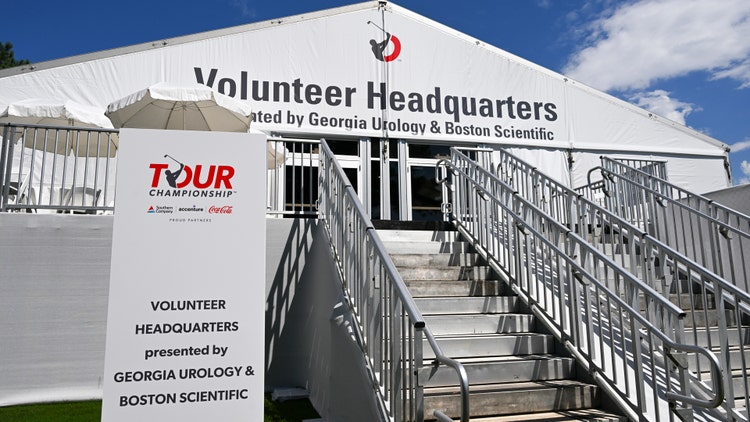 Georgia Urology and Boston Scientific return as sponsors of the Volunteer Headquarters
Local urology practice to provide support for 1,300 volunteers during tournament week
ATLANTA – The TOUR Championship today announced the return of Georgia Urology and Boston Scientific as sponsors of the tournament's Volunteer Headquarters, which serves as the hub of activity for more than 1,300 volunteers as they fuel up ahead of a big day or unwind and recap the sights and sounds around East Lake Golf Club.
The TOUR Championship serves as the culminating event of the FedExCup Playoffs and PGA TOUR season, where only the top 30 players in the FedExCup standings will advance to East Lake Golf Club, August 23-27, for a chance to win the PGA TOUR's Ultimate Prize – the FedExCup.
"Giving back remains a driving force behind Georgia Urology's overall mission," said Dr. Carl Capelouto, a senior urologist with Georgia Urology, "and the volunteerism at the TOUR Championship enables the tournament to do phenomenal work for the community. This echoes the practice's values, which inspires us to continue to offer our unwavering support."
From Gallery Management Ambassadors to youth standard bearers, TOUR Championship volunteers help organize, coordinate, and manage the event in various capacities that allows the event to donate back to the community. Since first being played at East Lake in 1998 the TOUR Championship has given back more than $48 million to charity – including a record $5.5 million from the 2022 event – and supporting the event's five charitable beneficiaries: East Lake Foundation, First Tee – Metro Atlanta, Grove Park Foundation, Focused Community Strategies and Purpose Built Schools Atlanta.
"Our volunteer force is what brings the TOUR Championship to life," said Alex Urban, Executive Director of the TOUR Championship. "The support from Georgia Urology and Boston Scientific is so impactful to ensure our volunteers have a memorable TOUR Championship experience while helping us continue to drive meaningful dollars back to our charitable beneficiaries."
To sign up as a volunteer, visit https://www.tourchampionship.com/volunteer.
Georgia Urology is the largest urology practice in Georgia with more than 25 locations and eight ambulatory surgery centers across metro Atlanta. The practice is comprised of more than 80 providers, and many of its physicians are fellowship-trained and hold advanced specialty training in oncology, robotic surgery, laparoscopy, infertility, incontinence, and pediatrics. Georgia Urology physicians use state-of-the-art diagnostic equipment and advanced treatment techniques, including robot-assisted technology and minimally invasive procedures, in order to manage all urological problems in men, women, and children. It is the practice's mission to inform and partner with patients to develop a personalized, compassionate, and comprehensive treatment plan for all their urological conditions.
At Boston Scientific, we work collaboratively to solve healthcare's toughest problems by developing solutions that matter most to those suffering from debilitating and life threatening conditions and the healthcare professionals who provide their care. Across 100+ countries, we help providers deliver care more effectively by reducing costs, increasing efficiencies and expanding access to care in order to help more people in more places live longer, healthier lives. We go beyond our mission of transforming patient lives by investing in the future and the well-being of our employees and our planet. Our commitment to sustainability is evident in our Newsweek ranking as the 16th greenest company in the U.S. We also strive to foster a diverse and inclusive work environment and provide opportunities for our 38,000+ employees around the world to serve in their local communities. For more information, visit www.bostonscientific.com and connect with us on Twitter and Facebook.
For more information about the TOUR Championship, please visit TOURChampionship.com. Fans are encouraged to follow the TOUR Championship on Facebook, Twitter and Instagram for tournament updates.