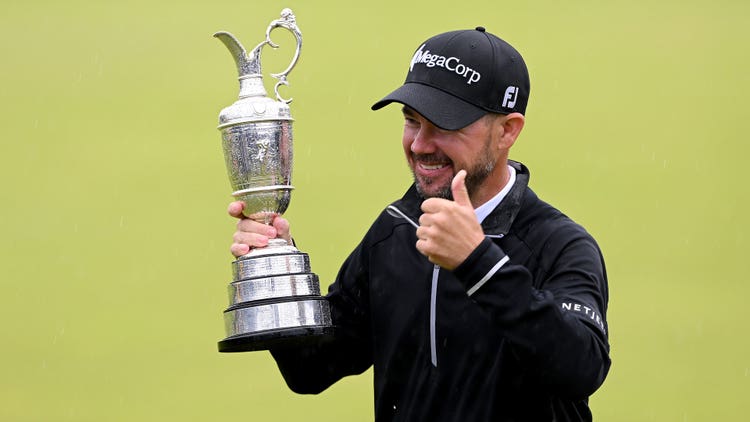 UGA product Brian Harman up to No. 6 with Open Championship win
TOUR Championship returns to East Lake Golf Club, August 23-27
ATLANTA – The University of Georgia will be represented at the 2023 TOUR Championship thanks to a dominant performance by Brian Harman to win The Open Championship for his third career PGA TOUR title. The win elevated him to No. 6 in the FedExCup with two weeks remaining in the PGA TOUR Regular Season.
The TOUR Championship is the culmination of the PGA TOUR season and the FedExCup Playoffs where the TOUR's top 30 global stars compete for the FedExCup and an $18 million bonus.
A consistent performer on the PGA TOUR since 2012, Harman, 36, entered The Open Championship with two career PGA TOUR victories, with his most recent coming at the 2017 Wells Fargo Championship. Riding a streak of three consecutive top-15 finishes, Harman relied on a hot putter to separate himself from the likes of Jon Rahm and reigning FedExCup Champion Rory McIlroy and win by six strokes at Royal Liverpool.
Harman, who competed collegiately at the University of Georgia, has qualified for the FedExCup Playoffs in every season since 2012 and will make his third career start at the TOUR Championship (2017, 2022). He had been enjoying a solid regular season marked by three runner-up finishes that had him at No. 18 in the FedExCup prior to his Open Championship victory.
With his T2 finish at The Open, Jon Rahm retains his lead in the FedExCup thanks to four wins on the season. Two weeks remain until the TOUR's top-70 players qualify for the FedExCup Playoffs and make the final push for the 2023 TOUR Championship.
The current FedExCup Playoffs Eligibility and Points List is available here.
For more information about the TOUR Championship, please visit TOURChampionship.com. Fans are encouraged to follow the TOUR Championship on Facebook, Twitter and Instagram for tournament updates.