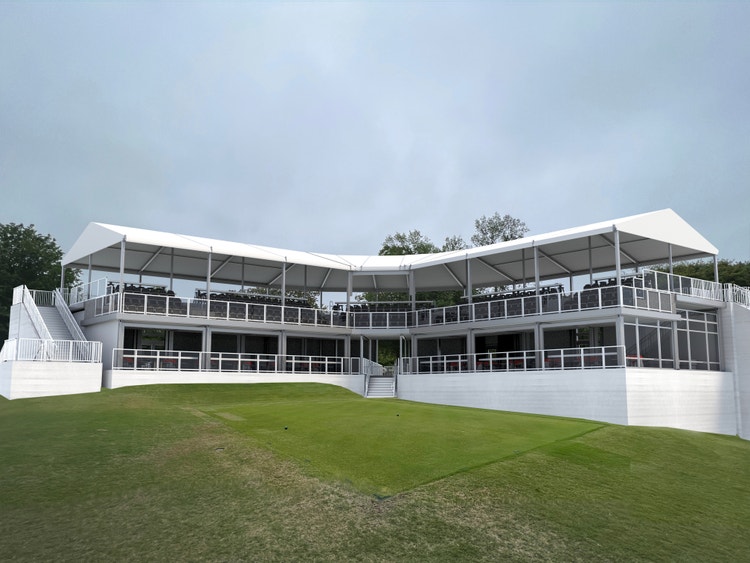 TOUR Championship set to unveil new 1st Tee experience at the 2023 tournament
Starter Lounge presented by NetJets to provide unique ground-level view of the TOUR's top 30 players
ATLANTA – Tournament officials for the TOUR Championship today announced plans for a reimagined 1st Tee experience at East Lake Golf Club beginning with the 2023 event, creating an environment to match the intense drama of the PGA TOUR's season finale. From guests of the brand-new Starter Lounge presented by NetJets to the Daily Grounds ticketholder to the TOUR's top 30 players themselves, the 1st Tee will offer an elevated experience as the battle for the FedExCup reaches its climax.

The TOUR Championship returns to Atlanta and historic East Lake Golf Club from August 23-27 as the PGA TOUR's top 30 players compete in the FedExCup Playoffs finale for their chance to win the FedExCup and the season title.

The primary enhancement of the 1st Tee experience is the Starter Lounge presented by NetJets, an upscale, shared hospitality experience that will create a heightened level of anticipation for each tee time by giving guests a one-of-a-kind vantage point as players pass through the venue during their pressure-packed walk to the tee to begin their round at East Lake Golf Club. With food and beverage included, the Starter Lounge presented by NetJets offers the optimal experience to watch every group tee off from this ground-level venue.

"Players recognize what is on the line each year at East Lake Golf Club, and we wanted the beginning of the round to feel more momentous not only for the TOUR's 30 best players but also for our partners and fans," said TOUR Championship Executive Director Alex Urban. "While the walk to the 1st Tee will feel more significant to the players, the new buildout allows us to address the growing demand for new hospitality offerings by having guests positioned within a few feet from where the players take their final steps to reach the tee."

Daily Grounds ticketholders can also take in the action and enjoy shaded seating in the open-to-the-public areas at the 1st Tee, also presented by NetJets. Fans will have access to a new beverage concession area at the top of the grandstand, along with seating options, providing a unique vantage point to the start of the round.

As an enhancement for both the Starter Lounge and the Shaded Public Bleachers presented by NetJets, the 1st Tee experience will also feature a video board to highlight the best players in the world and inject even more excitement to the area. From the Hope Tee Shot Ceremony to start the round on Thursday through the last tee time on Sunday, the 1st tee will be the place to be at the TOUR Championship.

Inquiries for the Starter Lounge presented by NetJets can be made by visiting TOURChampionship.com/hospitality.

For more information about the TOUR Championship, please visit TOURChampionship.com. Fans are encouraged to follow the TOUR Championship on Facebook, Twitter and Instagram for tournament updates.