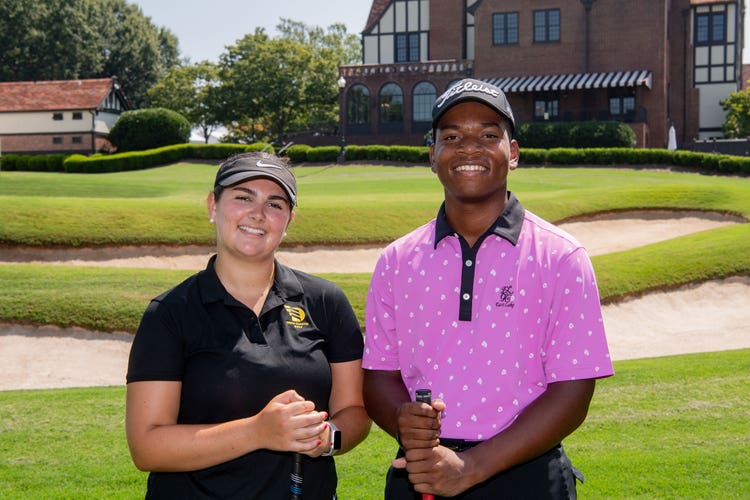 TOUR Championship announces Elsie Husted and Josh Mitchell as 2023 HOPE Tee Shot Honorees
First Tee – Metro Atlanta participants to receive $5,000 scholarship on behalf of Accenture
ATLANTA – Today, the TOUR Championship announced its 2023 HOPE Tee Shot honorees, with First Tee – Metro Atlanta participants Elsie Husted and Josh Mitchell selected to each hit the opening tee shots at the TOUR Championship on Thursday, Aug. 24, moments before the PGA TOUR's 30 best players begin the first round of competition. As part of this unique tournament tradition, both honorees will also receive a $5,000 scholarship on behalf of TOUR Championship Proud Partner Accenture.

"The HOPE Tee Shot encompasses all that makes the TOUR Championship unique to Atlanta," said Alex Urban, Executive Director of the TOUR Championship. "Ingrained into the fabric of this tournament is the desire to create opportuinities for this community and its youth. While their moment on the first tee is one that Elsie and Josh will never forget, it is thanks to our partners at Accenture that the impact of that moment will be felt long after they walk off the tee."

Since 2008, the TOUR Championship has recognized members of First Tee – Metro Atlanta who exemplify the "HOPE" that continues to build in the East Lake community and throughout Atlanta. Each year, both honorees emerge from an intense selection process comprised of a golf competition, essay contest and interviews with tournament leadership. Husted, 17, and Mitchell, 16, will be honored during the HOPE Tee Shot Ceremony on Thursday, Aug. 24, on the first tee at East Lake Golf Club.

"We're proud to partner with the TOUR Championship on our shared commitment to creating opportunities and nurturing the next generation in the local communities where we live and work," said Jimmy Etheredge, Accenture's CEO of North America. "Congratulations to Elsie and Josh for their well-deserved scholarship."
Elsie Husted
Husted, a rising senior at Drew Charter School, has been a member of First Tee – Metro Atlanta for eight years, and has some experience hitting shots in front of a crowd at East Lake Golf Club. In 2022, she was invited to participate in the TOUR Championship Charity Challenge during tournament week, where she and other local First Tee participants hit shots on the par 3s in place of the Charity Challenge competitors.

Off the golf course, Husted can be found getting lost in a good book or watching her favorite player, Rory McIlroy, compete on the PGA TOUR.
Josh Mitchell
Mitchell, a rising senior at Riverwood International Charter School, has been envisioning his chance to hit the HOPE Tee Shot ever since he took up golf and First Tee in 2019. Josh has proven to be a quick learner, having seen incredible improvement in his scores while relying on Perseverance – one of First Tee's Nine Core Values – to help him overcome the setbacks that come with playing competitive golf.

Mitchell's favorite PGA TOUR player is Scottie Scheffler, and he looks up to his mother and grandfather as the most influential people in his life.

"We are proud to have Elsie and Joshua represent our chapter for this year's Hope Tee Shot. This honor is one they both worked hard towards, and we are excited that we all get to see their hard work pay off," said Jenae Jenkins, Executive Director, First Tee – Metro Atlanta. "They truly exemplify the very best of what First Tee is all about and have seized their opportunity to experience something meaningful and impactful to them. We are appreciative of the PGA TOUR, the TOUR Championship, and Accenture for playing a huge role in showing how corporate support can uplift and give hope to the next generation."

For more information about the TOUR Championship, please visit TOURChampionship.com. Fans are encouraged to follow the TOUR Championship on Facebook, Twitter and Instagram for tournament updates.