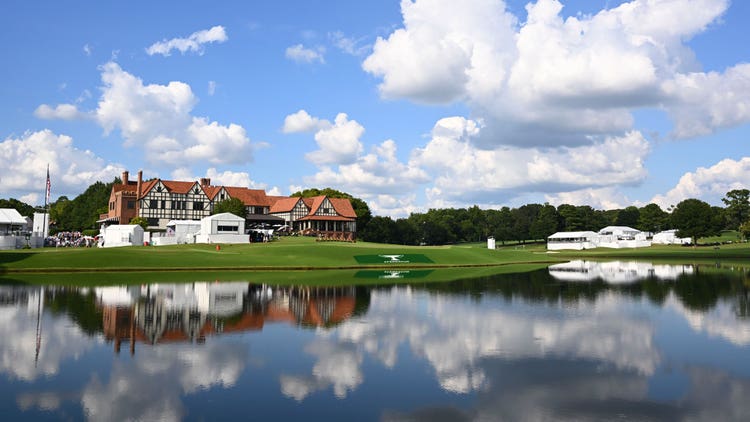 PGA TOUR Superstore to sponsor popular putting experience and hospitality offering at TOUR Championship
PGA TOUR season finale returning to East Lake Golf Club, August 23-27
ATLANTA – TOUR Championship officials announced today that PGA TOUR Superstore will sponsor one of the most popular fan activations at the tournament as well as a reimagined hospitality venue when the PGA TOUR's 30 best players return to East Lake Golf Club for the FedExCup Playoffs finale, August 23-27.

"The TOUR Championship is grateful for local partners like PGA TOUR Superstore and their desire to play a part in elevating the tournament for our grounds ticketholders and hospitality clients," said TOUR Championship Executive Director Alex Urban. "From fan activations to uprgraded hospitality options, each component plays a role in the overall success of the event and its ability to give back to our charitable partners."

From Wednesday – Sunday during tournament week the PGA TOUR Superstore Putting Experience will give fans a one-of-a-kind opportunity to hit some putts on one of East Lake Golf Club's replica putting greens. With putters available for use courtesy of PGA TOUR Superstore, fans can make their way to the area behind Southern Company's SO Cool Zone between the 14th fairway and 15th green to test their putting skills on TOUR Championship-speed greens and walk away with some fun prizes.

Daily hours for the PGA TOUR Superstore Putting Experience are available below:

Wednesday, Aug. 2311 a.m. – 2 p.m.
Thursday, Aug. 24 – Sunday, Aug. 27 1 – 4 p.m.

PGA TOUR Superstore will also help provide a unique, shared hospitality offering at the TOUR Championship, with the Tailgate Terrace presented by PGA TOUR Superstore set to provide fans with an upgraded tournament experience. Situated in a new location on the 7th green, this open-air venue is centrally located in the middle of the action with easy access to the 6th and 8th tees along with a short walk to the 15th green. Complimentary beer and wine and a tailgate-style menu is provided within the venue each day.

Availability for the Tailgate Terrace presented by PGA TOUR Superstore is limited to Sunday ONLY.

"The continued revitalization of the East Lake community for nearly 20 years is a shining example of the positive impact the game of golf makes in communities," said Jill Thomas, Chief Marketing Officer, PGA TOUR Superstore. "As a purpose driven organization, we are proud to support the TOUR's finale in our hometown of Atlanta at historic East Lake."

For more information about the TOUR Championship, please visit TOURChampionship.com. Fans are encouraged to follow the TOUR Championship on Facebook, Twitter and Instagram for tournament updates.