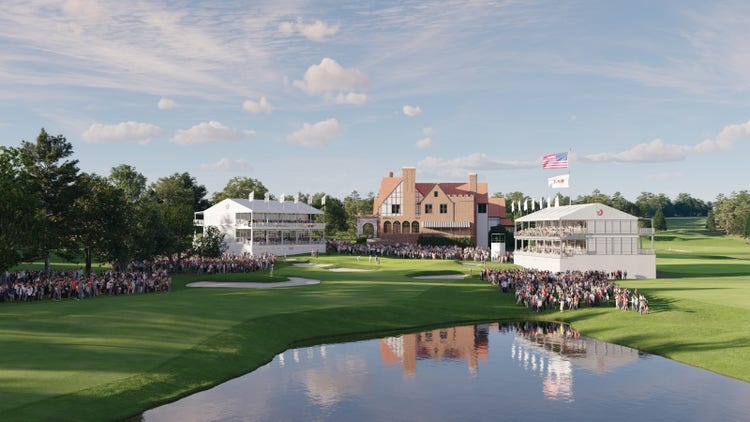 TOUR Championship launches elevated 2024 corporate hospitality program
PGA TOUR season finale to provide enhanced offerings alongside East Lake Golf Club's renovation


ATLANTA – On the eve of the 2023 TOUR Championship, tournament officials today launched the first four products in its comprehensive corporate hospitality program for the 2024 event, which feature myriad new and enhanced offerings that will further elevate the experience at the PGA TOUR's season finale.

The significant upgrades to the hospitality program will debut alongside the full-scale renovation of East Lake Golf Club, with renowned golf course architect Andrew Green set to bring the historic layout back to its "Golden Age" when the likes of Bobby Jones and Alexa Stirling walked the fairways.

The initial 2024 revealed products – the Ross Suites, Stirling Suites, Jones Pavilion and Legend Suites – are reimagined and showcased in a state-of-the-art rendered video that also gives a glimpse into some of the course renovation work that will transform East Lake.

The TOUR Championship will make a one-time return to Labor Day weekend in 2024, with tournament dates set for Aug. 28 – Sept. 1, 2024.

A prized feature of a premier event like the TOUR Championship is the opportunity to host customers, partners, and colleagues in exclusive corporate hospitality venues while watching the PGA TOUR's best 30 players battle for the FedExCup. For the 2024 TOUR Championship, companies of all sizes will have the opportunity to secure their spot at East Lake Golf Club from a range of options suited to their individual needs.

From more thoughtful positioning of venues to enhanced interior layouts, these reimagined offerings will cement the TOUR Championship as an annual tradition for Atlantans and a bucket list destination for golf fans and corporate clients around the globe.

For more information about the 2024 TOUR Championship corporate hospitality program, visit TOURChampionship.com/2024

Click here to submit an inquiry about 2024 hospitality offerings.

For more information about the TOUR Championship, please visit TOURChampionship.com. Fans are encouraged to follow the TOUR Championship on Facebook, X and Instagram for tournament updates.