2023 TICKETS
The TOUR Championship is Atlanta's must-attend outdoor sporting event of the summer, with something for every fan to enjoy
General Admission Ticket Options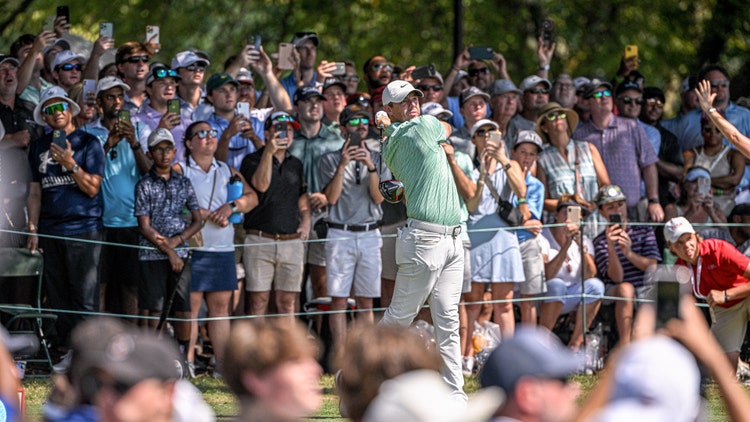 DAILY GROUNDS
Daily Grounds tickets for the 2023 TOUR Championship grants you general grounds access, as well as entry to open-to-the-public spaces at the TOUR Championship. Tickets are dynamically priced, so fans are encouraged to purchase early to secure the lowest available price.
Upgraded Ticket Options
THE TAILGATE TERRACE PRESENTED BY PGA TOUR SUPERSTORE
Situated on the 7th green, this open-air hospitality venue is centrally located in the middle of the action with easy access to the 6th and 8th tee boxes along with a short walk to the 15th green. Complimentary beer and wine and a tailgate-style menu is provided within the venue each day. Limited tickets are available for Saturday and Sunday.
Exclusive Offers
MASTERCARD OFFER
Limited tickets are still available for Thursday and Friday. All Mastercard® cardholders can use their Mastercard to receive preferred pricing for the TOUR Championship while supplies last. Cardholders may purchase up to eight (8) Daily Grounds tickets per day, per account when accessing via the link in the button below.
MICHELOB ULTRA ATHLETIC CLUB
For an upgraded experience, the Michelob ULTRA Athletic Club is an exclusive, open-air hospitality experience with covered stadium seating on a first-come, first-serve basis overlooking the 13th green. Once players complete the 13th hole, the Michelob ULTRA Athletic Club also provides a covered patio to watch as players tee off at the 14th hole. A full premium bar and upgraded menu offerings are available for purchase within the Michelob ULTRA Athletic Club along with upgraded restroom facilities. For convenient access to and from the Michelob ULTRA Athletic Club, the Rideshare Gate is located a few steps away near the 13th fairway.
Additional Ticket Options
MILITARY TICKETS
As part of its longstanding commitment to honoring and supporting those who serve, the TOUR Championship is proud to offer a special complimentary ticket allotment for active duty, retired, reserve and National Guard members in addition to a special allotment of discounted tickets for veterans. Tickets are available while supplies last. Saturday and Sunday are no longer available.
YOUTH POLICY
Up to two (2) youth, ages 15 and under, will be admitted free with a ticketed adult, Wednesday - Sunday. All youth ages six and older must have a ticket in order to access hospitality venues.
TOUR Championship Newsletter
You'll get the latest news updates on social events and special offers delivered to your inbox!